Let's Get to know the south side!
The most popular neighborhood searches are below and just a click away. Be sure to coe back ofetn or save your searches and get notified.
is one of the three homesite subdivisions within the Poipu Kai Resort community. These 40 homesites were developed over 40 years ago and the community is all but built out with very few vacant lots remaining. What people love about Bayview is the excellent proximity to beaches, safe walking pathways through the resort landscape and easy walking to many Poipu amenities, access to the tennis club and pool complex. Very little turnover here so you will need to check back frequently or sign up for new listing notifications for this special area.
This is one of three subdivisions within the Poipu Kai Resort Community. The 40 homesites range in size from 600 to 8000 square feet and it is fully built out at this time. What people love about Lanai Villas is the great proximity to safe walking paths that connect you to year round beaches, recreation facilities and local eateries which Poipu is very well known for. Being a very popular residential area, you will need to check back here often or sign up for notifications when rare listings go live.Crestview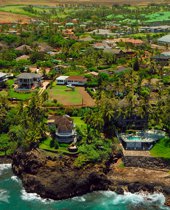 Weliweli Heights is generally considered the residential neighborhood along Pee Road eastward from Nihi Kai Villas up the hill and around the corner as far as The Pointe. It includes homes on Hoohu Road, Keoneloa Place and Makanui Road. People love this area for it's ocean view panoramas and easy walking access to beaches along the coast and other recreation amenities in the area.

All listings you find here are located between Ho'owili Rd along Hoone up to Brennecke's including the side streets, around the cormer up the hill on Pe'e up to Hoohu Road.WeliWeli Tract
Kiahuna Golf Village was the first residential subdivision developed within the Kiahuna Golf Course in the early 80's. The 90 homesites are almost completely built out and it has emerged as a jewel of a community in the heart of the golf course fairways. What people love about Kiahuna Golf Village is the peaceful ambiance of a well estatblished community, easy walking and magnificent vistas from the fairway homes.
Wainani is one of the three subdivisions located around the perimeter of the Kiahuna Golf Course in Poipu. There are 70 lots in all with an average size of 7500sf and all of them enjoy fairway frontage. It is the only community here that has propane infrastructure bringing gas service right to the homesite.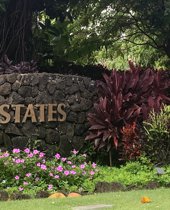 Poipu Beach Estates is one of three residential neighborhoods in the Kiahuna Mauka area. There are approximately 110 homesites ranging in size from a quarter to a full acre in size and was first developed in 2006.
The current neighborhood mix is about 40% finished homes and 60% vacant lots. All construction here is guided by restrictive covenants regulated by a Design Review Committee. What is emerging is a very attractive community of finely crafted residences nestled amidst ancient stone walls, and archaeological preserves that tell the story of the Hawaiian people who inhabited this area at the time before western contact.
Hoonani Road Starts at the corner of Kapili Road and runs along the coastline fronting Poipu Kapili and a row of oceanfront homes extending west all the way to Hanakaape Bay. It is a mix of old plantation era homes with multi-generational owners and newer homes built over the past twenty years. What people love about this location is the great sunrise and sunset views over the water and the many coastal activities from famous surf spots dive spots and shoreline fishing at your doorstep. This is a small market area with few listings at any given point but well worth watching for new listing activity.Puuholo - Hoona
Lawai Highlands
Lawai Mauka
Kalaheo Mauka
Kalaheo Makai